If you are planning on storing your car for more than a few weeks, then it's important to do it right. Follow these 11 tips for success:
Step One – Wash and Wax
Washing your car before storing it will ensure that there are no harmful substances on the car that might cause rust or damage over time. For instance, if your auto has bird drippings or road salt on it, then these can damage the paint job.
Step Two – Change Oil & Filter
Changing the oil and filter ensures that your engine will not sit for months filled with contaminated oil.
Step Three – Test the Anti-Freeze
Have anti-freeze tested to make sure it will hold to the coldest temperature expected for the duration of the storage.
Step Four – Fill the Fuel Tank
This helps prevent condensation inside the fuel tank. One of the most damaging things that often happens to stored automobiles is condensation inside the fuel tank. Once this occurs, you must have it removed and cleaned before starting your car. It is also advised that owners add a fuel stabilizer to the gas tank. Be sure to add this when you are filling the tank and then drive the car for a few miles to make sure the fuel and stabilizer are well mixed.
Step Five – Place Car on Jack Stands
This step serves to take the weight off your tires. This is recommended for long term auto storage. With the car up on jack stands, your tires will receive no wear and tear even if the car is stored for a year or more. Be sure your tires are correctly inflated!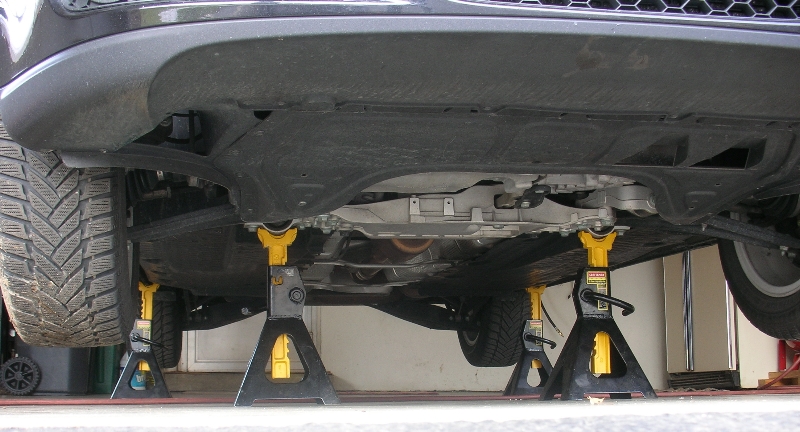 Step Six – Disconnect the Battery Negative Lead
This will prevent any type of electrical short and also save your battery from going dead. Eventually, over long periods the battery will drain but a battery maintainer can be utilized to keep it charged.
Step Seven – Car Cover
A good quality car cover will keep dust, moisture and other pollutants away from your car's interior and exterior.
Step Eight – Stuff Aluminum into Air Intake and Exhaust
This is done in order to prevent rodents or small animals from nesting in these locations. Be sure to put a note on your dashboard to remove the aluminum foil before starting the car again.
Step Nine – Remove Windshield Wiper Blades
This is done so that the rubber doesn't stick to your windshield. You can also place a piece of plastic between the rubber wiper blades and the glass.
Step Ten – Remove Spark Plugs
If storing an auto for more than a year, it is recommended that you remove the spark plugs. Spray the cylinders with some oil to prevent rust. A special fogging oil that is used to store boats works well for this.
Step Eleven – Release the Parking Break
If the parking brake is left on, your brake pads can stick to the rotors.